Sabiha Airport Transfer Via Sprinter MiniBus
If you need an airport transfer from Sabiha Airport(SAW) for a group between 6-15 people you can get the details here and do your reservation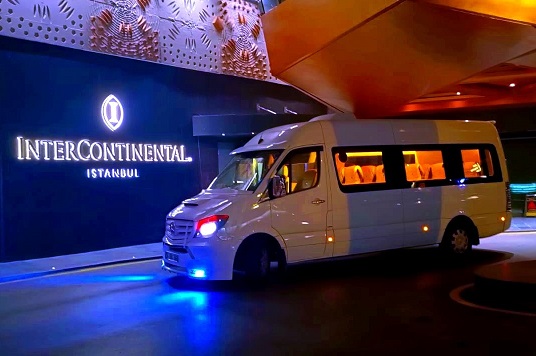 Need to know about Sabiha Airport Transfer
If you are a family or group of more than 6 people, you need a bigger vehicle than a Mercedes Vito. For this purpose, there is another vehicle category used in Turkey from 2 different car companies.
Mercedes Sprinter
Volkswagen Crafter
Both these cars have almost the same comfort for customers, what you need is to be sure that it is a new brand.
If you need a safe Sabiha Airport Transfer for a big group of between 6-15 people this one is your best selection. There is enough space for 15 luggage also. If you are a group with 4,5 or 6 people and have more than 6 luggage you still need to make a reservation by car and the Mercedes Vito won't be a good selection for you.
Tips about the reservation of Sabiha Airport Transfer
before you do your reservation search about the company you want to make a reservation with, you should check about documents the company have and about reviews on Google
There is lots of traffic from/to Sabiha airport to your destination normally, As Sabiha Airport(Saw) is on the Asian side and the destinations are normally on the European side
check if the car has enough space for your luggage with the company
There are 3 different routes to/from Sabiha Airport(SAW), you can ask your shuttle driver to use which one. Drivers use the Bosphorus bridge as default and with airport transfer companies, there is not any extra charge for that. But the are two different options that have extra charges. The first would be the KUZEY MARMARA highway with 40TL extra charge and the second AVRASYA TUNNEL with 120 extra charge. If your hotel or destination is located in the Fatih (Sultanahmet) district and you need to save time the AVRASYA TUNNEL is the best option for you
Here are some rates for Sabiha Airport transfer with Minibus sprinter to different districts inside the city
How it works on our Website
If you are here, you already found one of the best Sabiha Airport Transfer Services in Istanbul. What you need now is to make your reservation on our website. Here is a brief explanation of the process of service
First, you need to make your reservation on our website, Select the Sabiha Airport (SAW) in the form part and then you can select your destination, how many people you are and if you need a one-way or round-trip airport transfer
You can select the minibus sprinter on the next page and have a look at real photos as examples of this vehicle
On the next page, you need to enter details like flight date, number, name and other details
If your destination is an address or an Airbnb you can read the post about how to select an address as a destination
Please enter a number that has WhatsApp if you have and an email address
After your reservation, you will get an instant confirmation through both email and WhatsApp
Then you can be in touch with our team if you have any question, you can call and be in touch with our staff who speaks English fluently
One day before your reservation you will get a message of details from our staff who will wait for you with the sign at the airport and driver and car details
On the day of your reservation, we track your flight in Flightradar24 and will wait for you after the flight landing. We are aware that it takes about one hour for customers to pass passport control and pick up their luggage, so don't worry we will wait for you
At Sabiha airport(Saw) you can find us easily with the meeting point details we provided for you
After you meet our staff at the airport, please let them know your name and they will arrange with the driver for pick up who is waiting for you in the car park